Mac OS X:Delete strange file in trash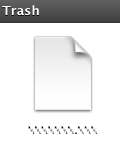 This file with strange file name has lived in my Trash for over a month. I finally get rid of it today.
It's caused by the FAT32 partition for Windows. I booted Windows and deleted the files in the hidden directory "C:\.Trash" and similar folders. Then the problem is solved.